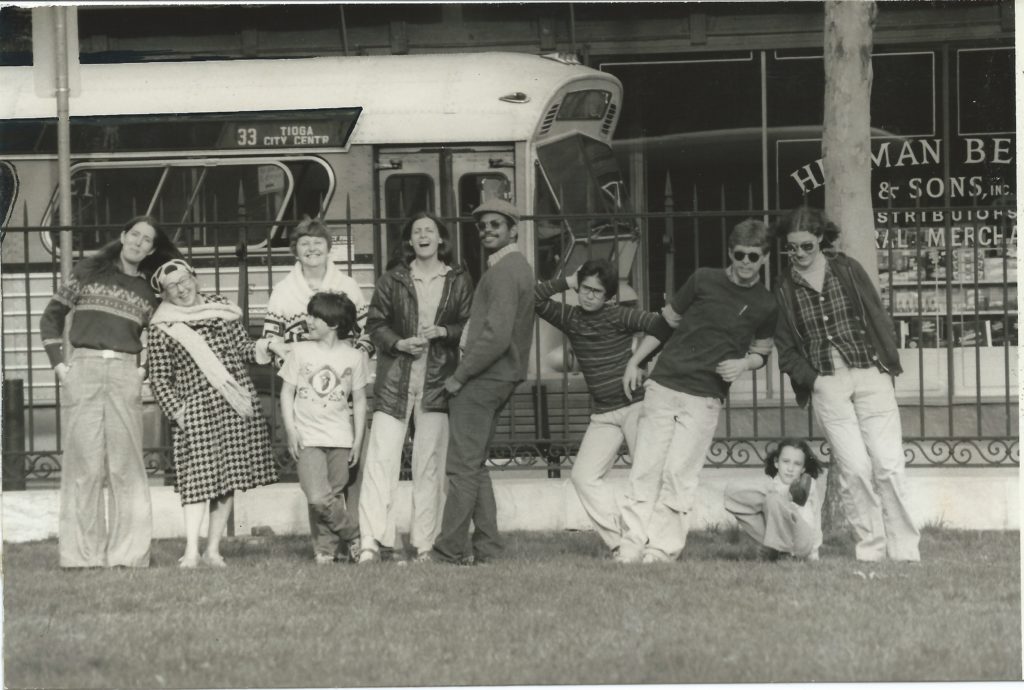 LDHP: Were there issues that you addressed in your work, socio-political atmosphere of the time, antiwar movement, nature/environmental, spiritual, other -"isms" activism, feminism.
TF:All of this I would guess. My generation was coming of age at the end of the 60's. We were very "conscious" about the conservation of nature, the futility and waste of war, the need for equality for everyone, race and gender. We were reading a lot of spiritual writers, from Carlos Casteneda, Black Elk, to Rumi and other poets like Gary Snyder and Adrienne Rich, Anne Waldman, and so on. This had an influence. I would say that my work was feminist in some regard in that I felt all dancers bore an equal presence and voice on stage – I was not interested in exploring romantic forms like a "pas-de-deux." Dance in the 20thc was founded and developed by women. As a woman performing near the end of that century, I do think I connected to something like a femaleness in my dance, and something a kin to the inherent human search for freedom.
LDHP: What of forms?
TF: I mentioned forms in terms of influence… but I was exploring along with other dancers and musicians improvising in performance.
LDHP: Describe what influenced your work, who did you influence. Did you work individually, collectively, collaboratively?
TF: My personal background was that I always loved to dance all kinds and especially stuff I made up. In high school I studied with a teacher who had been a student of Martha Whtiman at Bennington, so I developed a love for modern forms and improv. By the late 1970's I had pretty much made the decision that I was a dancer. By then, I had studied Horton techinique locally with Joan Kerr and in NYC at Clark Center with Jimmy Truitte, as well as doing Ailey's repertory class at ADF. I went to Judith Dunn's workshop at New Dance Group Studio and found it too cerebral for my liking, but enjoyed Bill Dixon's music. I'd spent 2 summers at ADF sampling everything from Graham, Limon and Paul Taylor techniques to Al Huang's Tai Chi as an approach to dancing and Percival Borde's Caribbean dance. I felt very at home doing Yvonne Rainer's repertory, performing her "Trio A" and other dances in "Continuous Project Altered Daily." I was becoming a polyglot of dance moves and enjoyed performing and creating with Group Motion Multi-Media Theater, but their structures and message were too rigid. So I struck out on my own with several musicians to explore improvisation as performance. The renegades included dancer/sculptor Jean Parisi, musican/composers Jeff Cain and Charles Cohen. Jeff, Jean and I found a commercial space we thought we could live and work in. Along with our other musician and dancer friends, we fixed it up and everyone had a key, though only the 3 of us lived there. It was 1700 sq ft loft at 217 Church Street in Old City in 1975. Those artists included among other, dancers Ishmael Houston-Jones, Fred Holland, Stephanie Daniels, Phyllis Jones and musicians Lenny Seidman and David Watts. There we jammed, rehearsed, created, held classes, partied and waxed philosophical on all topics over brown rice and veggie dinners.
By 1976 I discovered that there were other visual, theater and performance artists who had taken up roosts in Old City. I pulled together a "Jes Grew" festival to put some work out to an audience. That was the beginning of Old City Arts, an unruly crew who went on to produce and present some of the most amazing urban arts events and works, like the collaborations "Wear White at Night" and "No Man's Land" (which was instigated by artist Jeff Cain). By the mid-80's development, (with the City of Philadelphia's stimulus and blessing) had displaced the most of the Old City artist "pioneers" who then scattered to various realms geographically and artistically.
LDHP: What was going on at the time? The prevailing zeitgeist?

TF: Circa 1976-80: It seems to me at the onset that there were definite dividing lines between the academia artists and the studio artists, which diminished somewhat into the 80's as everyone found themselves on a relatively similar paying field. There were no local presenters, with any stage size, of consequence, presenting local dance. There was little to no funding. Also there were dividing lines between those who were founding and building dance companies along traditional models and those who wanted to be recognized as individual or "independent" dance artists.
Further, esthetic lines were seldom crossed. There were Limon, Horton, Wigman and Graham devotees. Contact Improvisation was just being hatched which John Gamble brought to the Temple University Dance Department (a degree program that was just getting underway). Those pursuing improvisation in performance or pushing the definitions of what constituted technique were definitely not embraced by a more traditional dance community and its audience. They were not invited to participate in any substantive or policy making way to the then nascent dance service organization. Rather "experimental" dance work had followings among visual artists, new and rock musicians, performance artists (then a new genre) and avant-garde theater ensembles.
LDHP: What of the material question? Did you make a living as an artist?
TF: We all lived frugally, rode bikes, wore thrift store chic, etc. I worked several part time jobs, including teaching at the Settlement Music School and working a health food/juice lunch counter at the Reading Terminal. I was a CETA Artist for one year. As Artist Curator at the Bride I got a small stipend.
LDHP: Where were places you worked/performed?
TF: From 1976 to 1982 I performed at the 217 Church St loft studio, The Bread Street Studio (live work studio of Steve Lebowitz and Cathy Stoops), ETAGE art and performing gallery at 253 North 3rd Street run by Sigmund Kaye, Christ Church Neighborhood House, Old First Reformed Church, streets, vacant lots and alleys in Old City and the parks of the INHP and the Painted Bride on South Street, The Painted Bride on Bread Street, and the Painted Bride on Vine Street. In 1980 I organized two weekends of performances by 6 artists at the Harold Prince Theater "Dance & Dancers" assisted by the Painted Bride. I was sometimes invited to participate in other dance programs and venues around the city including Ann Vachon's Dance Conduit. I toured to TanzFabrik in West Berlin in 1980 invited by its co-founder-director, a former Philly choreographer who also worked in and around Old City, Jac Carley. I performed at the WPA in DC, Environ and the Cunningham Studio in NYC. Trying to get off home base was a huge undertaking so these performances were not a regular thing.