Our projects encourage artists and audiences to engage with contemporary dance and its dynamic evolution in Philadelphia.
Celebrating 25 years of PDP!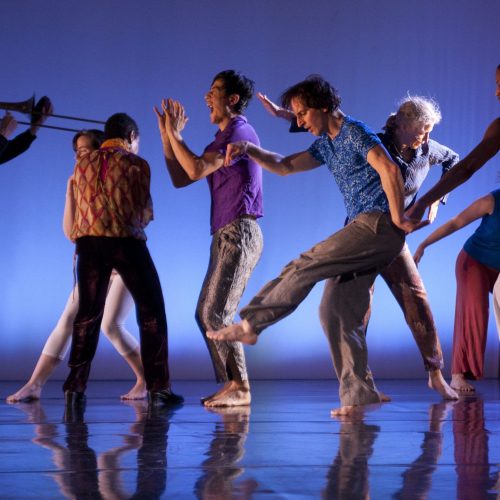 October 22-24, 2021 we kicked off our 25th Anniversary year with IF WALLS COULD DANCE with a wonderful, free outdoor event! Cine-dancemaker Carmella Vassar-Johnson, drawing from her video archive documenting PDP and her other film/video works,  created a unique dance video loop. Gralin Hughes, Jr. animator and experimental media aritst, built original animations based on these archival selections, and…
PDP Presents is looking forward to presenting DANCE UP CLOSE, a return to live and in-person dance performances coming in spring of 2022 (fingers crossed!), including a premiere by Tommie-Waheed Evans. Waheed-Evans, who teaches locally at University of the Arts, was also recently awarded a Guggenheim Fellowship in the most recent 2021 cycle. We presented Waheed-Evans as part of our…
We hosted a dozen Informances  (informal and informative performances) via Zoom as a way to connect dance artists, scholars, and audiences in 2020 and 2021!
Learn more about the presenting artists and read what the audience and the press had to say.
Tommie-Waheed Evans  "so inspiring"
Christopher Williams "That was wonderful last night. Wow, what a talent!!!!! I hope I'm able to see some of the finished works someday, I was particularly struck by the Narcissus piece-beautiful! "
John Scott   "Brava! We enjoyed it!"
Arthur Sabitini, Dan Martin & Michael Biello, Megan Bridge & Peter Price
PDP gratefully acknowledges support from The National Endowment for the Arts, The Philadelphia Cultural Fund, The Trust for Mutual Understanding, Pew Center for Arts & Heritage, Henrietta Tower Wurts Memorial, Vanguard Matching Gift Program Foundation, Covid-19 Arts Aid PHL, many Individual Donors and community partners Philadanco and Muhely Alapitvany/Workshop Foundation.
PDP's projects celebrate and support contemporary dance artists at various stages of their creative process and professional journey. Our projects remember, explore, and expand the connections between contemporary artists and audiences in Philadelphia.
"witty "  "wildly different"  "cool"  "dexterous" "passionate" "tour de fierce"  "winning and sensitive" "a sense of discovery present throughout…"
PDP Director Terry Fox, served on the Arts & Culture Task Force  (ACTF) in Spring 2021 to help the city assess the arts landscape in Philadelphia a year into the pandemic.
Read more about the PHILADELPHIA DANCE COMMNUNITY SCAN SPRING 2021
See the ACTF's recommendations here. (Download Findings)
by Nadia Khayrallah Ice skater, choreographer, and Brownbody founder Deneane Richburg admits that undoing internalized white ideologies—including the expectation of constant productivity—is an ongoing process.…
March 27, 2021 Gina Palumbo Gina Palumbo Comments Off on Lily Kind Makes Dance In America – her way! by Gina Palumbo for The Dance…
by Gina Palumbo for The Dance Journal "My name is Amalia and I am here on Lenape Land." Informance began with a reminder that everything…