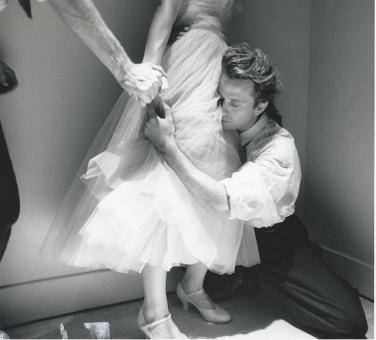 LDHP: Describe what influenced your work, who did you influence. Did you work individually, collectively, collaboratively?
TB: In 1976, I applied to Temple University Dance Department and matriculated into the undergraduate dance major program. I had come from Lancaster, PA where dance training was for cruise ship chorus girls, but at Temple I found myself in an environment where students and teachers were interested in making art. I trained in all the standard dance techniques such as ballet, Cunningham, Hawkins, improvisation, contact improvisation, but it was clear fro the start that I had my own way of moving and my own vision of dance on stage. Helmut Gottschild was the grand master of dance training at Temple and his dynamic approach to dance, with its emphasis on effort more than shape, impulse and follow through, movement qualities more than steps and lines, really suited me. In 1977, Helmut invited me to join his company, ZeroMoving Dance Company, and I became more intimately acquainted with his approaches to choreography, the constructs he used in his group works. I also met dancers that I drew into my own work in the future.
LDHP: Were there issues that you addressed in your work, socio-political atmosphere of the time, antiwar movement, nature/environmental, spiritual, other -"isms" activism, feminism.
TB: Some of my early pieces, like Home and Last Dance, were studies in choreographic form. However, when I developed the evening-length works, which came to define my process, there  was always an undertone of yearning in my choreography. Works like Basins and Waiters dealt with longing and the search for connection. They addressed, both directly and indirectly, sexual tension and homosexuality as emotional and political issues. Psalms, for instance, was a dramatic and sometimes humorous exploration of Christian fundamentalism, its presence in the media and its condemnations of the gay community. My work also considers the passage of time and our internal reflections on past lives and loss, our reckoning with endings as dancers and as fragile, mortal people. I also made dances that expressed my struggles to survive. Collecting Gravity was about the ways we are manipulated and the willful actions we take to get what we need. Survival is a practical and emotional question of everyday life for the artist in America.
LDHP: What of forms?
TB: When I was creating my work, I did not have a label for it in terms of technique or approach. My connection MTI and BTP, to Mike Pedretti and Philip Armoult, helped me see myself as part of an international phenomenon that thrived in Europe and was not particularly understood in the US. Helmut had provided the training based on Wigman technique and German Expressionism. I could see my work as an outgrowth of this tradition, too, making me an artistic relative to Pina Bausch, Anne Teresa De Keersmaeker and Jiri Kylian. I also drew all kinds of talented collaborators to my side and these partnerships made my work distinctive and gave it its rich quality. I commissioned original music working with composer Bob Moran, Composer/Cellist Mollie Glazer, Composer/Guitarist John Lilly and Percussionist Toshi Makihara, to name a few. In my mind's eye, I envisioned sophisticated stage and lighting design and engaged Curtis Dretch, a designer from Muhlenberg College, in my work. My dancers, too, were important to the ultimate form of the dances we created together. Their strength and beauty drove the choreographic vision more than any technique or aesthetic concept.
LDHP: What of the material question? Did you make a living as an artist?
TB: The funding environment in Philadelphia was too unstable for me to stay and live the artist's life there. This brings me to the discussion of myself, Terry Beck, as an artist, and Terry Beck Troupe, the company that made it possible for me to have a manager for a period of time, a studio and paid dancers to take on tour. For a while, the PA Council on the Arts supported professional management and dancers salaries with the hope that these funds would help local dance groups stabilize or professionalize. Then, Pew funded non-Philadelphia arts groups who partnered with Philadelphia based organizations to create opportunities for performances out-of-town. The Pew projects took Terry Beck Troupe to Dance Theater Workshop in NY and the Baltimore Theater Project (BTP) as a company in residence. In the second year of the BTP program, Philip Arnoult produced TBT at the Edinburgh Festival, a life changing opportunity for me that led to future projects in the UK. At the same time, Mike Pedretti and Nancy Hill built the MTI Theater which was an ideal space for my work.
At last, Philadelphia had a theater that was dedicated to dance and supported local artists. In addition, MTI brought me into a larger community of international movement theater artists and I came to see myself in this larger creative context. These years, 1988 to 1991, were my best years as a working artist in Philadelphia. I had everything I needed. But soon priorities changed among the funders, the infrastructures of my organization collapsed and I was not able to continue my work in Philadelphia at a level I could be proud of. Being disheartened and with great sadness, I closed Terry Beck Troupe and continued my work as choreographer overseas with performance artist/mime Daniel Stein in Paris, Diversions – The National Dance Company of Wales, and also Scottish National Dance. Both Diversion and Scottish National Dance toured my work throughout Europe and Asia for several years. I officially left Philadelphia in 1996. Since then I have become an acupuncture practitioner with a practice near Buffalo, NY and teach dance and movement studies at SUNY Fredonia.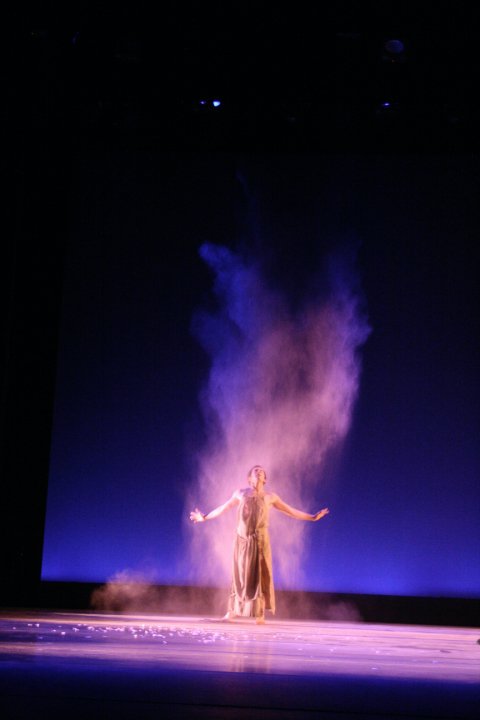 LDHP: Where were places you worked/performed?
TB: As for rehearsal spaces, I have fond memories of wandering all over Philadelphia with Nancy Hill to find an empty studio to rehearse in. She had a faculty ID card to get into Temple University Center City campus on Walnut Street, so we would sneak into their studios to work. These stolen moments of creative activity contributed to our sense of being outlaws in the larger Philadelphia art scene. Then Nancy opened her own studio near Rittenhouse Square and I was able to do some of my work there. When Maureen Wiley was Executive Director of the Philadelphia Dance Alliance, Maureen forged a partnership with Susan Hess and the funders to make Susan's studio available for rehearsals and informal showings. At that time, Maureen was still actively choreographing concert programs. Susan continued this studio access program on her own and I was able to work there for four years, sharing informal studio concerts with Steve Krieckhaus and Karen Bamonte. In1990, my company leased a huge space on Fairmount Avenue in Northern Liberties that I was able to keep until 1992. After that, I was invited to use the facilities at Arden Theater and People's Light and Theater Company where I also helped with staging on a variety of productions.
My first concert programs were presented at Temple University at Conwell Dance Theater. I was a student at Temple when this space, an old and abandoned gymnasium, was first developed by dance faculty Les Ditson and John Gamble. Then I was invited to perform at The Painted Bride Arts Center. The space was limited in terms of technical capacity, but it was the best place to be at the time. Between programs at the Bride, I self-produced at Penn at the Annenberg Auditorium. When the MTI Theater was built, I had hopes of finally having a good theater with a competent technical crew for my concert work.
LDHP: Other thoughts?
TB: This is a good place to acknowledge my special relationship and longtime collaboration with Nancy Hill. Nancy and I met as young dancers with ZeroMoving Dance Company and she was my ballet teacher at Temple University, for a time. As I started to create my concert programs, Nancy was a constant in my life, an ever-present and lovely performer and outside eye that helped me see, edit and develop the work. She also created movement for herself and the women in the company. Together we shared our dreams for the dance company with the hope that we would not need to wander the sidewalks of Philadelphia forever.
When we founded the company in 1986, Nancy took on the roll of Associate Artistic Director and Maryann Amore became Managing Director of TBT. We were a powerful trio that worked hard to secure the resources we needed to build Terry Beck Troupe. I could count on Nancy to articulate my goals and to describe my vision for the work to the lay audience. She was the best person to reflect back to me the deeper psychological meanings in my work and the choreography we created together. Her insight into movement and meaning was, and continues to be, extraordinary,