LDHP: Describe what influenced your work, who did you influence.  Did you work individually, collectively, collaboratively?

WH: Yvonne Rainer, Contact Improvisation, Trisha Brown, Kei Takei's Moving Earth, Meredith Monk, Medicine Show Ensemble, Nirtan Lim, Omega Institute, Rhinebeck NY; in Philadelphia, Tom Updegrove – Kenpo Karate, Jerry Fleischman Tai Chi, Bradford Chien – White Crane Kung Fu, Terry Fox and Ishmael Houston Jones and friends, improvisation, Joan White and Connie Fernandez -Iyengar Yoga instructors at the University of Pennsylvania, Group Motion, Zero Moving Company.
LDHP: Were there issues that you addressed in your work,  socio-political atmosphere of the time, antiwar movement, nature/environmental, spiritual, other -"isms" activism, feminism.
WH: We created and performed "Amanita" at several Nuclear Freeze events, and at my Quaker Meeting in Bethlehem. I don't think feminism was a theme, although of course it was in our blood. I think that the ancient female was visible as many of the pieces had a ritualistic and nurturing quality, incorporating circles, repeated movements, and a few of them primal toning or vocalizations. I found toning fascinating but never really pursued it as part of performance. Love of nature and working/playing with natural settings was a big part of Agape. Raised as a Quaker, and having worked at the American Friends Service Committee I definitely had a service or humanistic approach to life. We toured to several out of the mainstream places including a Drug and Alcohol Rehab Center in Eagleville, PA, to a mental hospital in Norristown, a day site for the mentally and physically challenged in East Oak Lane, Phila, and several other places. In fact, when we were about to perform as part of the Dance and Dancers Series at Drexel Univ. we were concerned that there might not be enough turnout. So several of us called social service places in the area and invited them to come for free. Several of them did!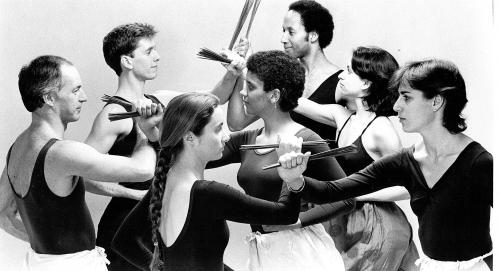 LDHP: What of forms?
WH: We used improvisation in our rehearsals to arrive at choreographed movements. For some of the outdoor and indoor environmental pieces we used improvisation along with an agreed upon structure. Yoga, tai chi, animal frolics, karate were all a part of choreography. Kenpo Karate got me in touch with my power and I was never as strong as when I studied it. I achieved balance, speed and height that I never came close to before in any dance medium. White Crane Kung Fu, taught by Bradford Chien, a speaking and hearing- challenged man from Taiwan, added the flow element. And Nirtan Lim at Omega Institute introduced me to the animal frolics. Also at Omega Institute was Valentina Litvinoff, a dancer, Alexander instructor, and former student of Stanislavsky. At the time I studied with her, much of her focus was alignment and moving with ease. I also studied some Brazilian stick forms, and Hung Gar Kung Fu. The Hung Gar martial artists were the bodies behind the huge dragons at Chinese New Year in Chinatown. All I remember from classes was standing in horse stance-knees bent, thighs parallel to the floor, for twenty minutes— or else. I didn't stay with that too long, but was definitely influenced by it. One of the movement techniques in the 1970s and 1980s was Contact Improvisation, made popular by Steve Paxton and Trisha Brown. We danced with another person or more, maintaining physical contact the whole time. We balanced and counterbalanced each other, supported, moved underneath, or next to. This was often done with the eyes closed, as the tactile sensation of the other movers' bodies and that ever-present energy flow were what created the motion. Although obviously visceral, it was more of a spiritual/energetic connection, and not a sensual or sexual experience. I think this movement training was valuable in helping me work with the physically and mentally challenged. Our best work seems to be when we are simply in the moment, reacting to each energetic action or non-action. Ballet and I certainly never clicked, although I suppose it was there somewhere in our performances. (Today, whenever I am in a swimming pool the first thing I do is barre work!)
LDHP: What was going on at the time? The prevailing zeitgeist?

WH: At the time I started getting involved in art I began therapy. Then I stopped therapy. I became overwhelmed with so many changes in my life as a dance major, member of an avante garde theater company that included long and late hours and intense and at times grueling exercise, including plastiques, working as a secretary, selling all the wedding gifts we received and moving into my ex's studio so he could afford to pay the rent, dating another man in West Phila at the same time, putting myself out there with little time or space to decompress, …. I had a meltdown. Tough period for a year. Went back into therapy, out of necessity and stayed with it until I moved to California. The same therapy group for ten years. I am saying this because it was a time of discovery and transition for me and many others, along with my own personal rough patch when it was too much too fast. As dancers and artists of the 1970s/80s we were breaking with the past and trying to find the essence of ourselves and each other and the world. We wanted to find the truth or our truth and to express it without any illusions. It was important that the movement came from a source deep inside, connecting to all times and peoples, to inspire and heal both performers and audience.
LDHP: What of the material question? Did you make a living as an artist?
WH: No. I had a few yoga classes (teaching at Tyler School of Art, Beaver College, two recovery homes for people with addictions) and got a tiny bit from PA Council on the Arts and PA Humanities Council, and cleaned houses. Mostly I was supported by my husband , Steve Braff, who when I met him was a full time yoga teacher and part-time bodyworker. Since our divorce in 2001, I have been struggling to survive on the money I make from bodywork and mandala art and yoga, and hoping my book that has taken up most of my free time the last 8 years, Circles of Healing, will help.
LDHP: Where were places you worked/performed?
WH: We created in my home space on 66th Ave in East Oak Lane, Innerworks, occasionally at Temple Univ. when I was still a student there, or at the performance sites.