DANCE UP CLOSE 2023
Three choreographers Lauren Putty White, Paige Phillips and Annie Wilson premiere work is themed around an embodied legacy of time, place, and history.
First up is Lauren Putty's Putty Dance Project on
February 24 & 25 PUTTY DANCE PROJECT
7 PM At Christ Church Neighborhood House, 20 North American Street, Phila PA 19106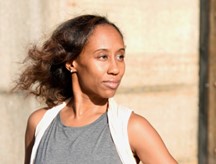 Choreographer Lauren Putty White will premiere Glimpse "how fleeting the phases of life can be, especially when we don't fully live in the present." In a life where time is so fleeting, "Glimpse" reminds us that while memories can be captured in stillness, movement is eternal. This work with original live music and dance experience takes you on a kinetic journey of endearment and hope.
About the Artists:
Putty Dance Project produces socially conscious, critically acclaimed works. The artists, Musician Brent White and Dancer, Lauren Putty White have presented their work at the Kimmel Center in Philadelphia, Baltimore Dance Invitational, Boston Contemporary Dance Festival, San Francisco's Virtual Pathways, and most recently, the Poster House block party in NYC.
Together they have drawn upon the sense of community at the heart of African American culture. Lauren Putty also draws from her background in various dance forms as well as performing with the Sun Ra Arkestra. Her credits include touring with Philadanco and Parsons as well as artistic residences at Bryn Mawr College and Cornell University. An Assistant Teaching Professor in Music at Drexel University, Brent White uses his scholarly research and performing experiences from touring internationally with the Sun Ra Arkestra to playing with the likes of Captain Black Big Band and other various artists to inspire his creative practice.