DANCE UP CLOSE 2023
Three choreographers Lauren Putty White, Paige Phillips and Annie Wilson premiere work is themed around an embodied legacy of time, place, and history.
February 24 & 25 PUTTY DANCE PROJECT
7 PM At Christ Church Neighborhood House, 20 North American Street, Phila PA 19106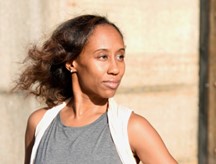 Choreographer Lauren Putty White will premiere Glimpse "how fleeting the phases of life can be, especially when we don't fully live in the present." In a life where time is so fleeting, "Glimpse" reminds us that while memories can be captured in stillness, movement is eternal. This work with original live music and dance experience takes you on a kinetic journey of endearment and hope.
About the Artists:
Putty Dance Project produces socially conscious, critically acclaimed works. The artists, Musician Brent White and Dancer, Lauren Putty White have presented their work at the Kimmel Center in Philadelphia, Baltimore Dance Invitational, Boston Contemporary Dance Festival, San Francisco's Virtual Pathways, and most recently, the Poster House block party in NYC.
Together they have drawn upon the sense of community at the heart of African American culture. Lauren Putty also draws from her background in various dance forms as well as performing with the Sun Ra Arkestra. Her credits include touring with Philadanco and Parsons as well as artistic residences at Bryn Mawr College and Cornell University. An Assistant Teaching Professor in Music at Drexel University, Brent White uses his scholarly research and performing experiences from touring internationally with the Sun Ra Arkestra to playing with the likes of Captain Black Big Band and other various artists to inspire his creative practice.
PAIGE PHILLIPS March 28-30 & ANNIE WILSON April 4-6 present "Rural Legacies"
In two separate week runs each artist will premiere works tracing lineages that embody perceptions both inward and outward. The two weeks at the Icebox Project Space include performances, workshops, a line-dancing session and an indoor picnic in the mountains, and more
Performances 7PM At Icebox Project Space, 1400 North American Street, Phila PA 19122
Paige Phillips' interdisciplinary work weaves her girlhood memories of growing up in coal country West Virginia with radical Appalachian histories. Highlighting patterns of labor exploitation and wealth inequality, this sweeping narrative demonstrates that these issues exist everywhere, creating a dialogue that's both rural and urban.
Annie Wilson's new work is a durational, immersive performance that traces the influence of her grandfather, Gub. He grew up in rural western New York, was a bomber pilot and POW in WW2, developed alcoholism after the war, and died long before she was born. Using her liver as the site where his ghost lingers, Wilson asks in Always the Hour: How do we metabolize familial and generational harm? What does my body already know about the damage he inflicted and that which he endured? What choreographic strategies in the lineages in which I work give me access to that knowing?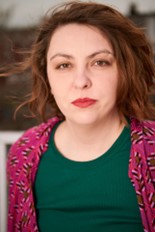 About the Artists:
PAIGE PHILLIPS' artwork is at the intersection of the performing and visual arts, engaging most frequently with dance, installation and video. Originally from West Virginia, she resides in Philadelphia. Her work has been presented nationally and abroad at the Bangkok Art and Cultural Center, the National Museum of Singapore, Park Gallery (Kathmandu, Nepal) the Judson Church through Movement Research (NYC), Velocity Dance Center (Seattle), and Urban Arts Center (Columbus), along with Philadelphia venues Mascher Space, Group Motion's Uhr Spiel Series, Vox Populi, High Tide Gallery and Little Berlin. Her work has been supported by the US Embassies in Nepal and Singapore, Ohio Arts Council and the Greater Columbus Arts Council. She was awarded a residency at the Marpha Foundation and also a BILATERAL artist residency through PDP in Budapest. Paige has performed with Cyrus Khambatta, Yael Bartana, and Josiah McElheny. She holds an MFA from The Ohio State University.
ANNIE WILSON is a Philadelphia-based multi-disciplinary artist. Her dances are animistic, pop-magic church services focusing on the experience versus the appearance of the body. She is a 2017 Pew Fellow in the Arts, a 2015 Independence Fellow, and a two-time Barrymore award nominee. Her work has been presented by JACK, Fringearts, Bryn Mawr College, <fidget>, Műhely Alapítvány, CounterPulse, and others. She has directed shows for MK Tuomanen and Almanac Dance Circus Theater, and performed in the work of Nichole Canuso Dance Theater, Meg Foley/moving parts, Lucinda Childs, Applied Mechanics, Pasión y Arte, and <fidget>. Significant support for Always the Hour has been provided by American Dance Asylum in collaboration with 171 Cedar Arts. Additional supporters include: Penn Treaty Special Services District, Subcircle Residency, Hambidge Center for Creative Arts, David A. Howe Public Library, Scribe Media Center, and her Patreons. Annie is an incubated artist at Headlong Dance Theater, a board member of Mascher Space Co-op, a low-cost videographer for nonprofits, a death doula, and a dues-paying member of the Debt Collective. www.theanniewilson.com.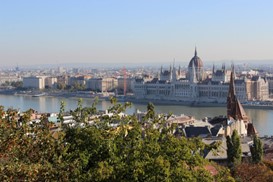 Danube/Schuylkill….
BILATERAL: Budapest/Philadelphia Dance Artists Exchange
PDP will highlight BILATERAL Exchange artists in March. Two guest artists from Budapest, Erno Zoltan Rubik and Helén Magdolna Tamásko, Massachusetts-based Tori Lawrence (BILATERAL Artist 2013) local dance artist Jungwoong Kim (BILATERAL 2017) along other collaborators will present a showing of their collective research and recent work on March 31.
(It should be noted that Paige Phillips and Annie Wilson were BILATAERAL Artists in 2019).
Details to follow…..
The Exchange is made possible with support from The Trust for Mutual Understanding. It hosts artists in residency; Philadelphia artists in Budapest, Hungary, and in the alternate year, Budapest