BILATERAL: Budapest/Philadelphia Dance Artists Exchange
PDP will highlight BILATERAL Exchange artists in March.
Friday, March 31 at the CEC Arts. 3500 Lancaster Avenue, Phila PA 19104
7PM – FREE or pay what you will
Is there more to improvisation than meets the eye?
How do dancers collaborate and build a score together?
After a creative residency around these questions at Earthdance, Plainfield MA, guest artists from Budapest, Erno Zoltan Rubik and Helén Magdolna Tamásko and Massachusetts-based Tori Lawrence (BILATERAL 2013) and local dance artist Jungwoong Kim (BILATERAL 2017) will present a showing of their collective research Including screening Lawrence's most recent dance on film work. Come see the exciting results of these exceptional international artists at work…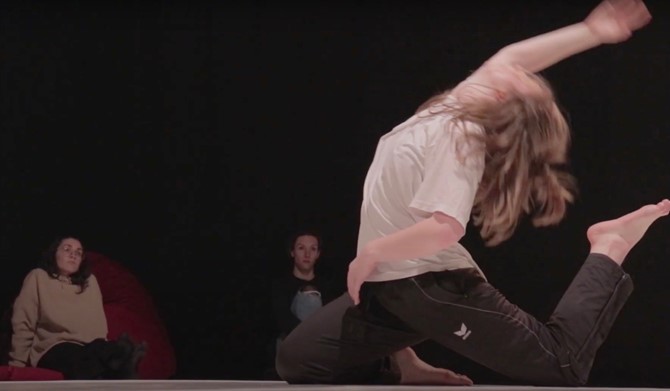 Featuring performers: Ellie Goudie-Averill, John Hughes, Germaine Ingram, Liliana Kane, Jungwoong Kim, Kendra PortIer, Ernö Zoltán Rubik, Helèn Tomasko
CineDance: Tori Lawrence
ABOUT THE ARTISTS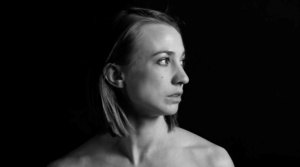 ELLIE GOUDIE-AVERILL
Originally from the Midwest, Ellie Goudie-Averill is a dance artist and educator who works with dancers of all ages on technique and performance. Since graduating with her MFA in Dance Performance from the University of Iowa, she has served as a professor at Temple University, Bucknell University, the University of Kansas, Franklin & Marshall, and Connecticut College. She has danced professionally in projects by Sara Shelton Mann, Susan Rethorst, Lucinda Childs, Bronwen MacArthur, Group Motion, and more. Ellie is a regular collaborator and dancer with Tori Lawrence + Co. in dance films and site-specific works and has been with the company for ten years. She currently teaches at Amherst, Smith, and Keene State Colleges, and at the School for Contemporary Dance and Thought in Northampton, MA.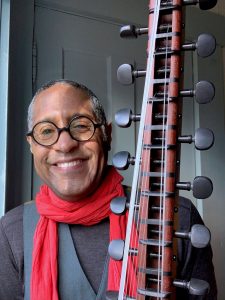 JOHN HUGHES
John Hughes is an internationally renowned composer, kora player, percussionist and vocalist. Whether playing and singing elegant and stately pieces from the classical repertoire of the Jeli's of West Africa or original compositions that mingle disparate cultural influences, John's kora playing has an uncommon beauty that is, at once, exquisitely intimate and bold. His signature pieces are rhythmically nuanced, laced with syncopations that cascade off the strings into whirlpools of mesmerizing sound. Playing traditional instruments not often heard in the United States (many of which he builds himself), John takes his audience on an intimate tour of musical expressions of joy and hope, at once soothing and up-lifting.
Also an acclaimed sculptor, dancer, instrument builder and educator, John holds a B.F.A. from the Tyler School of Art of Temple U. and the West Surrey College of Art and Design in Farnham, England and an M.F.A. from the University of Wisconsin/Madison.
John has taught sculpture, drawing, design and dance in schools and universities throughout the United States including The Rhode Island School of Design (RISD), Skidmore College and Marlboro College. He has taught drumming classes and workshops across the U.S. And Canada for the past 30 years, maintaining weekly classes in Northampton, MA and in his hometown of Brattleboro, Vermont. www.johnhughesmusic.com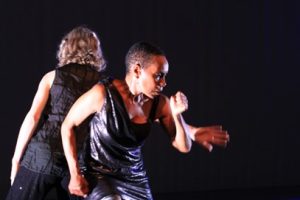 GERMAINE INGRAM
Germaine Ingram is a Philadelphia PA-based jazz percussive dancer, choreographer, songwriter, vocal/dance improviser, oral historian, and cultural strategist and archivist. She creates evening-length pieces that explore themes related to history, collective memory, and social justice, and designs arts/culture projects that explore and illuminate community cultural history. She collaborates with artists from diverse cultural traditions and artistic disciplines, including jazz/experimental music composers, site-specific choreographers, dance and vocal improvisers, African Diasporic culture specialists, and visual/media artists. She is a former civil rights and trial lawyer, law professor and urban school district executive. Among her current civic involvements, she chairs the Public Art Committee of the Philadelphia Housing Development Corporation, the boards of the Leeway Foundation and ArsNova Workshop, and is active with IMPACT, a global initiative to support the field/ecosystem of arts, culture and conflict transformation, as well as the Picasso Project that aims to transform K-12 classroom pedagogy through infusion of the artistic process.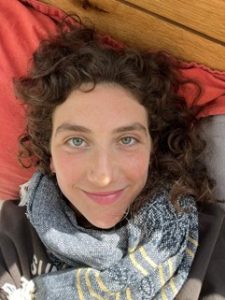 LILIANNA KANE
Lilianna Kane is a dancer and chef, currently invested in Contact Improvisation and Collective Improvisation. She is committed to improvisation as a physical practice of presence, attention, unknowing and inquiry. She is curious about the disruption of normative culture through dancing and gathering. She values the interplay of rigor and pleasure. She has trained with a plethora of teachers, collaborators, and friends. She is currently the head chef at The Field Center in Bellows Falls, VT, where she also has the privilege of regularly practicing, teaching, and researching Contact Improvisation. www.liliannakane.com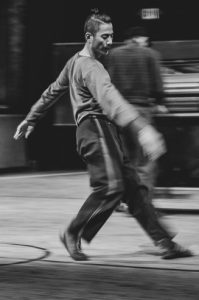 JUNGWOONG KIM
Born and raised in South Korea, Jungwoong Kim has been a dancer, choreographer and CI teacher for more than 24 years. He has extensive training in martial arts and Korean traditional dance and ritual, both of which strongly inform his artistic vision and aesthetic. He embodies aesthetic traditions of Korean Shamanism, as well as Deep Listening studies with Pauline Oliveros, immersive strategies of visual artists such as Ann Hamilton, and lessons from his work with site-specific and post-modern choreographers. He has done CI and improvisational performances with Katie Duck, Kurt Koegel, Hieky-oung Blanz, Kristie Simpson, Karen Nelson, Chris Aiken, Germaine Ingram, Leah Stein, Marion Ramirez, among others.
Since 2014 he has been an artists-in-residence at Asian Arts Initiative (AAI), a major arts and culture center in Philadelphia PA. Through this residency he received a John S. and James L. Knight Foundation grant to support his performance works. He was awarded a 2015 multi-year grant from The Pew Center for Arts & Heritage for creation of SaltSoul, a multi-disciplinary research/creative/performance project. He was nominated in 2017 and 2020 for a Pew Fellowship in the Arts, and received a 2017 Bilateral Dance Artist Exchange Residency in Budapest, Hungary through Philadelphia Dance Projects. He has led and taught improvisation and CI courses and workshops at numerous universities and independent dance education programs in the U.S., Europe, Japan, and South Korea. In 2021 he was awarded a project grant by ARTisPHL, an initiative of the public art program of the Philadelphia Housing Development Corporation, for creation of Gather Together in Their Name, a year-long, multi-disciplinary public art project with 3 community-based organizations.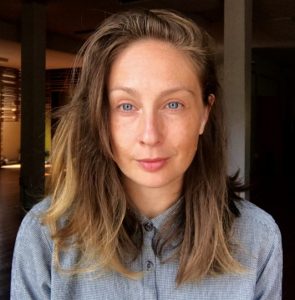 KENDRA PORTIER
Kendra Portier is a dance artist. Born at home in Ohio, she has facilitated and promoted dance across the globe from San Diego to Salzburg, Dushanbe to Athens (Greece, Georgia, and Ohio). Kendra has an extensive teaching roster consisting of numerous dance programs and festivals, and ongoing partnerships with Gibney Dance Center (NY), The Field Center (VT), & Bates Dance Festival (ME). She has performed in a range of classical to experimental works—most notoriously a decade-long tenure with David Dorfman Dance (NY), and currently with Jasmine Hearn and All Together Now! directed by Annie-B Parsons, Donna Uchizono, and Tendayi Kuumba. She is thrilled to be a part of PDP's BILATERAL Exchange. Kendra directs BANDportier – an interdisciplinary project-based dance collective. BAND's recent body of research includes untitled vital glacier, Pantone, and red dirt glitter (in-process). Kendra is an assistant professor at the University of Maryland, College Park where she is the Maya Brin Endowed Professor in Dance. www.kendraportier.com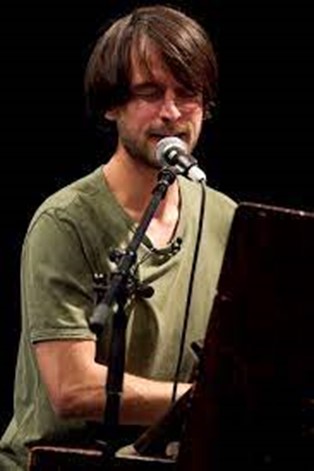 ERNÖ ZOLTÁN RUBIK
Ernö Zoltán Rubik is a pianist, composer and dancer. His works explore the interplay between audience and performer, improvisation and composition, music and physical performance. Inspired by his experiences in theater and dance projects (Krétakör, The Symptoms, Research Into the Unknown, KOMA társulat, Zéró Balett, Artus) he enjoys "hacking" the concert situation by investigating it's theatrical aspects. He uses several small objects, a flute and a melodica as an extension of his instrument.
He experiments with extended vocal techniques and choral improvisation (with the choir Soharóza), using human beatbox in a contemporary context. Since 2016 he is a founding member of the Budapest Improvisers Orchestra, with which he regularly performs at Transparent Sound Contemporary Music Festival. He has played with internationally renowned musicians such as Axel Dörner, Clayton Thomas, André Vida, Joke Lanz. Since 2011 he is co-founder and curator of the Budapest based improvisational music concert series JAZZAJ. His music and interdisciplinary compositions have been performed at MÜPA, BMC, MU Theatre and FUGA. He regularly holds improvisation workshops in which music and movement play equal roles. (Space-time-jam, JazzaJ MŰHELY). He studied composition at the Liszt Ferenc Academy of Music with Zoltán Jeney, where he graduated in 2017. In 2020, he held a three-day composition workshop with Bálint Bolcsó in connection with the creative activities of the New Music Studio. In 2009 he started to work more actively in dance, mainly studying improvisation, contact dance and hip-hop. In 2011 he created (smile)…(smile) with Maéva Lafitte as part of the Research of the Unknown programme. In 2013 he was facilitated as a teacher at the Kontakt Budapest Festival. In 2017, he founded LEVEGRU with Viola Lévai and Grégory Chevalier, with whom he holds instant composition evenings and jams at Gödör Klub, Lumen, Aurora and Három Holló. He performed with Claire Filmont. In 2018 he was co-creator and dancer in Réka Oberfrank's Today is Today. In 2021-22 he took part in the ZeroPlus dance programme as a student in contemporary dance. His main focus today is researching possibilities of instant composition with his group ERG.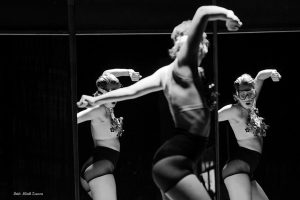 HELÉN TOMASKÓ
Helén Tomaskó is an emerging dance artist in Eastern Europe, based in Budapest. She has been directing the Seiko Dance Co. in Lituaniua, and choreographed for MN Dance Co. in Slovenia and Terminal Dance Co. in Budapest. She has performed in the work of Willi Dormer.,Somlo David, Salamon Eszter among others as well as in work by Sara Vella and Dnytro Gyrnov in the 2021 Malta International Dance Festioval, where got a BA in DanceStudies University of Malta.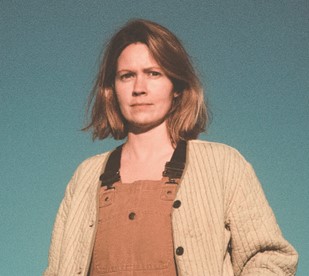 TORI LAWRENCE
Tori Lawrence is a New England-based choreographer, filmmaker, and educator who creates site-specific multimedia performances and digital/analog dance films. Her environmentally-based work inspires an imaginative and sustainable way of looking at, thinking about, and using space. Her site-specific choreography has been presented nationally and internationally, including three commissions by the Barnes Foundation in Philadelphia, where she created "Holding Place," an evening-length multimedia performance featuring acclaimed Brooklyn-based musicians Bing & Ruth. She is a lecturer at Bennington College and Smith College, and was awarded the 2019-2020 Artist-in-Residence and Dance Lecturer position at Middlebury College, where she taught courses in Movement & Media, Improvisation, and Contemporary Technique. She has been a lecturer at the University of Kansas (2017) and a guest artist at Franklin & Marshall College (2018), Connecticut College (2020), Trinity College (2020), Drexel University (2021), and Keene State University (2022). Tori graduated from Franklin & Marshall College and received her MFA from the University of Iowa, where she was a recipient of the Iowa Arts Fellowship.
She has been awarded artist residencies from Lademoen Kunstnerverksteder (Trondheim, Norway) and USF Verftet (Bergen, Norway), where she'll create a new screendance project with Jennifer Nugent in 2022-23. Other awarded artist residencies and fellowships include: Yaddo (NY; 2018), Djerassi (CA; 2017), Playa (OR; 2018), Brunakra (Sweden; 2018), Chez Bushwick (NY; 2018), Ucross Foundation (WY; 2016), Charlotte Street Foundation (MO; 2016-17), Dance Ireland (Dublin; 2014), and Workshop Foundation (Budapest; 2013).
Tori's choreography and dance films have been presented by Philadelphia Dance Projects, Dance Films Association's Dance on Camera Festival, Movement Research at the Judson Church, SCDT, Stockholm Screendance Festival, Cape Town International Film Festival, Portland Maine Film Festival, Agite y Sirva, San Francisco Tiny Dance Film Festival, Oklahoma Dance Film Festival, Legion Arts/CSPS, Lawrence Arts Center, Albrecht-Kemper Art Museum, Mulvane Art Museum, and Cyprus International Film Festival, amongst others.
She is currently collaborating with choreographer Sara Shelton Mann on a new performance installation with residencies/performances at Space 124 (San Francisco), Counterpulse (San Francisco), Fresh Festival @ Joe Goode Annex (San Francisco), SCDT (Northampton), Fort Mason Center for Arts & Culture (San Francisco).
——————————————-
Since 2012, the Exchange, made possible with support from The Trust for Mutual Understanding, has hosted artists in residency; Philadelphia artists in Budapest, Hungary with partner Műhely Alapítvány/Workshop Foundation, and in the alternate year, Budapest artists in Philadelphia with PDP.